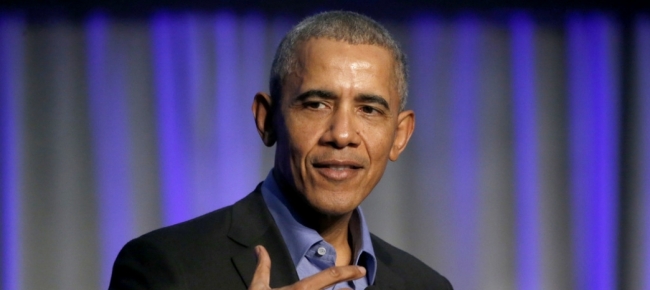 He will be the guest of David Letterman's new show which will debut on January 12th
NEW YORK – Barack Obama returns next week on US TV for the first time since he left the White House and the appointment on Netflix marks another big comeback: "My next guest does not need presentation" is the new show by David Letterman who will debut on January 12 with the former president as the first interviewed.
Beard from Santa, behind the "Mark Twain America Prize for Humor" (the equivalent of the Oscars for the US comedians), Letterman was paid by the streaming TV service Netflix 2 million dollars for each of the first six episodes on the air monthly from here to June.
Obama, who has been a guest of Letterman eight times during his presidency, has recently been interviewed by Prince Harry for the BBC: the appearance on Netflix will be the first in the US a year (less than eight days) from passing of deliveries to Donald Trump.
"I chose all the people I admire," said the 70-year-old "comedian king" announcing the line-up that includes former actors George Clooney and Tina Fey, Nobel laureate Malala Yousafzai, rapper Jay-Z and the scandalous barker of the satellite radio Howard Stern. In August, announcing that he accepted Netflix's offer to return to TV after two years of retirement, the comedian had listed Pope Francis, North Korean leader Kim Jong-un and Donald Trump on his wish list. "I've known him for 25-30 years," he said of the US president: "I would like to go back to New York where he was a child and ask him how he changed as an adult, how he started and where he plans to go".
Letterman's farewell in 2014 was a mourning for American TV. Many of his 'godchildren', like Jimmy Fallon or Jimmy Kimmel. Many classic sketches of the legendary "Late Show" as the 'Stupid Pet Tricks' and the list of "top 10" become institutions of pop culture. It is not clear what Dave will do with Obama and if politics, as everyone expects, will be at the center of the hour of conversation with the former president.
The show is part of Netflix's effort to create original content for its subscribers. Along the same lines as the Letterman show, last year the streaming TV service drew Jerry Seinfeld with the "Comedians in Cars Getting Coffee" series and made two New Year's specials with Dave Chappelle. The goal, explained to Variety the head of content Ted Sarandos, is to get half of the catalog made of exclusive Netflix productions with a spending in 2018 of 7 billion dollars, 2 billion more than 2015.
COPY CODE SNIPPET